Dado at the CNAC
Programme title:

Panorama


Title of broadcast:

Panorama culturel de la France du 6 février 1970


Producers: Jacques Floran and François Le Targat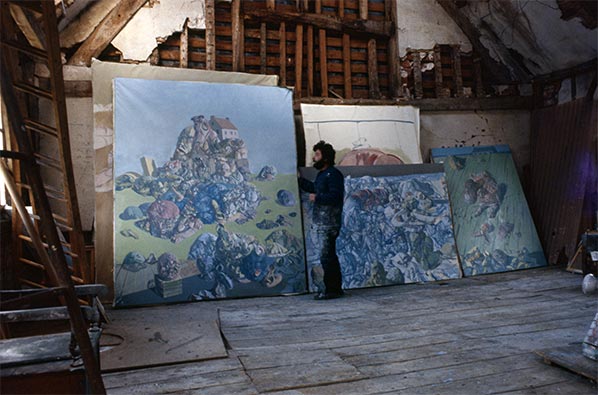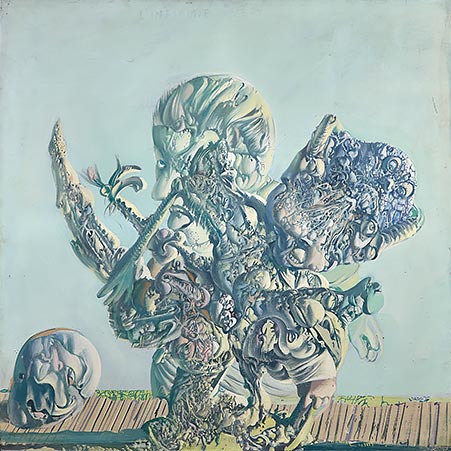 François Le Targat: When the conversation turns to painters, to painters, let us, of the olden days, we can never be exactly sure of how they were, in spite of their self-portraits, because it might be thought they distorted or spruced themselves up bit, that they saw themselves in another way. So with contemporary painting we are lucky to have the painter ready to hand. Dado, in this case. It will not, then, be me who'll draw his physical portrait; I'll borrow instead a passage from Daniel Cordier, who writes, in Huit ans d'agitation: "I met Dado through Kalinowski, in 1957. I was, I still am, disconcerted by this short guy with a beard, unkempt, softly spoken, whose language is refined, at once mocking and sad, living in unconscionable disorder, surrounded by owls, cats, sheep, and children." And, in addition to that, Dado, I think, you're a bit timid, since you had asked to be accompanied, I'm delighted to say, by Monsieur Billot, who organized your exhibition, and you said: "I'll never be able to speak with a microphone in front of me."
Dado: That's it, yes.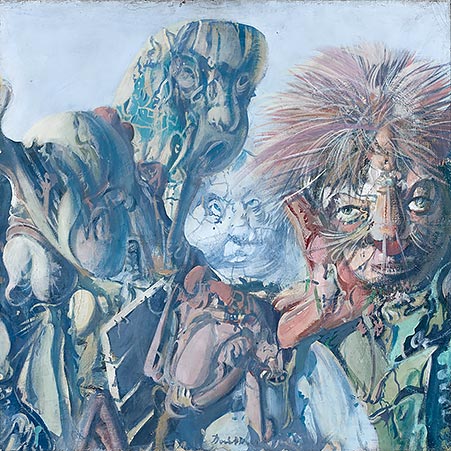 FLT: The first thing I wanted to ask you: why did you adopt that pseudonym? Is it because your name is so difficult to pronounce?
Dado: No, it's not that. It was my mother who called me Dado. It's odd as it's not a widespread first name or a nickname in my region. It is strange. I was, if you like, alone from the beginning, that's it.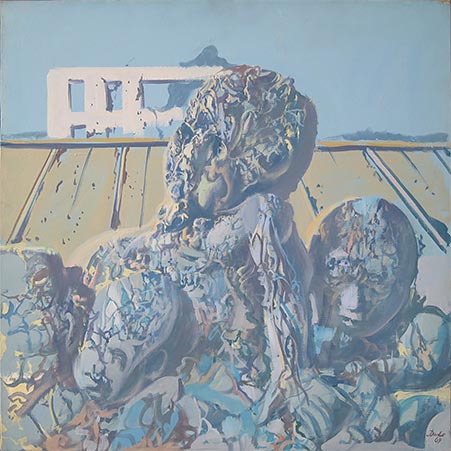 FLT: And you produce a painting that's… which we've seen, which people should go and see at the CNAC, that is, at 11 rue Berryer in Paris, under the auspices of the Centre National d'Art Contemporain… a rather strange painting. It is a strange world, a dreamlike world, and, without referring strictly to Taine, but the place, i.e. Montenegro, the place where you were born, where you nevertheless lived for quite a few years…
Dado: It sure did!
FLT: … had an influence…
Dado: Of course!
FLT: … on your pictorial art? In what sense?
Dado: A long-term influence, because a country one loves as one loves one's child is really something… In fact, these are feelings that come from really deep down. It is a tribute to my homeland, to a true mother of several thousands of square kilometres, if you like. It really comes from over there, as it were.
FLT: But it's not a descriptive tribute.
Dado: Ah, no, surely not. I realize that now it has a relationship to a country, which, if you like, might correspond today to the Vietnam of today.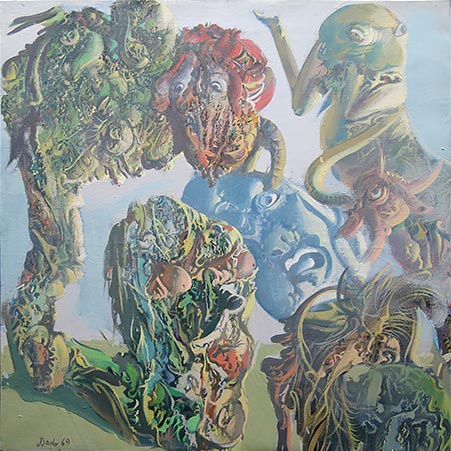 FLT: And, at the beginning of your painting, there's an evolution, there are two pictures, two small pictures… You started out with small size, with rather dark colours and ended up with immense formats in pastel and very light tones. How did that happen…?
Dado: I can tell you a legend if you want about these two little canvases, because…
FLT: There's already a legend? That's wonderful!
Dado: It's an authentic legend because it is true. My father worked in a hospital. He brought back worn-out mattresses for me and these were probably mattresses on which people had died and I wonder whether one might advance what is of course a very superficial interpretation like that, but the legend being that on top of those, painting on these cloths on which people had really physically…
Jacques floran: … suffered…
Dado: … suffered and all the rest, there was perhaps a kind of breath and these two small pictures, indeed… There's one… They are sewn in the middle because they were not large enough, sort of. And for the mechanical paintings, obviously, I was inspired by De Chirico, by Carrà, by the first Surrealists, and…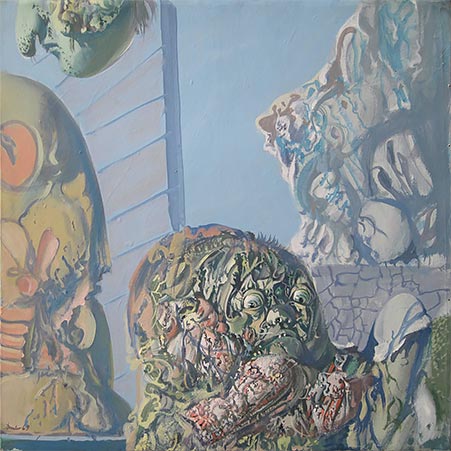 FLT: Yes, there is of course a Surrealist vein in your painting, but that's a bit too simplistic, it's something different even from Surrealism. It is not even an extension, it goes beyond that. Moreover, Monsieur Billot, who organized this exhibition, surely has a critical point of view on the subject.
Marcel Billot: That is to say, I don't see so much Surrealist painting in Dado's. In fact, if it's there, I can't feel it, it doesn't interest me. In any case…
Dado: Goodness, that's cruel!
MB: No, no, it's not at all cruel, it's because I think quite simply that there's so much more that a Surrealist bent in your painting…
Dado: Yes, yes, of course…
FLT: Well then, what to your mind are the broad outlines?
Dado: … Kinship, it's kinship, it's…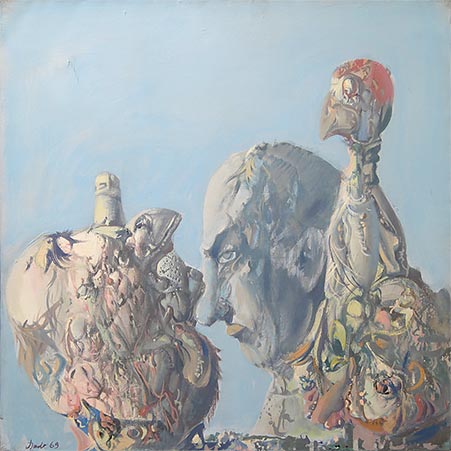 MB: You know, the broad outline, there's the work of a painter, there's the work of a guy who is in front of his canvas, how long? Eight hours a day, at least?
Dado: Yes, a little more… A little more…
MB: … eight hours a day, and then who confronts pictorial problems, and who in addition, and has a vision of the world… very much his own… unique to him, and then he expresses himself.
FLT: But Dado, is this vision of a strange world, and that's the least one might say…
Dado: I do not regard it as personal! You know, I think these are concerns everyone has: the phenomenon of life, of organic matter and death, these relate perfectly to everyone.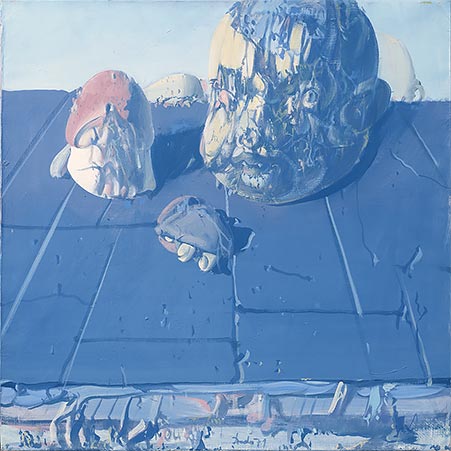 FLT: Yes, death, death is very present in…
Dado: Of course, of course, it is…
FLT: We were talking a few moments ago about despair…
Dado: Oh, yes…
FLT: Are you desperate?
Dado: No, no.
MB: Not at all…
Dado: That's what I was saying, no, it really isn't…
FLT: Disillusioned?
MB: Not at all…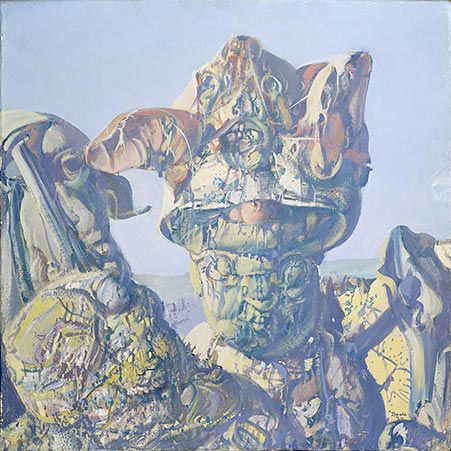 Dado: No, but for instance, I became desperate the day I realized that… material hardship is inflicted on people. These are things, things that should be remedied. Perhaps one cannot cure cancer, but physical wretchedness that is deliberately meted out on somebody, such as in wars and things like that, about those I'm completely outraged, and…
FLT: But isn't spiritual misery yet more injurious than physical misery?
Dado: No, no, I think it's the physical that comes first. You see, a baby, he first asks for a drink of milk and he'll only learn how to read later. If he's no good at his studies, he'll make a good metalworker, or… You understand, that's not the problem. Spiritual misery, that's a chattering classes problem.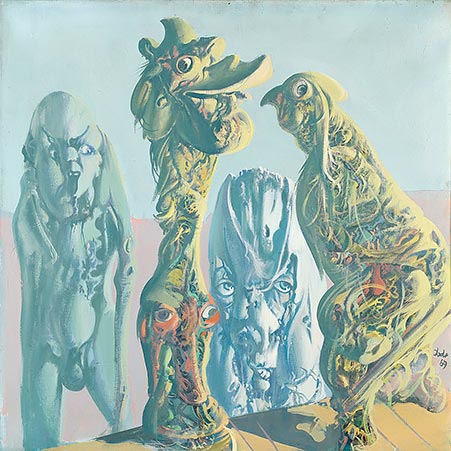 JF: Yes, yes, no, but I believe that Dado's right, because refugees from the Vietnam War, for example, are people who are miserable firstly purely and simply physically. They are fleeing…
Dado: But exactly!
JF: … bombardments, that's all, with their children, their… There are refugees in Laos…
Dado: There are?
JF: … who've moved six times, who have rebuilt…
Dado: That's dreadful, dreadful.
JF: … their village six times since the start of the war. That's ghastly. So, spiritual wretchedness, OK, but still…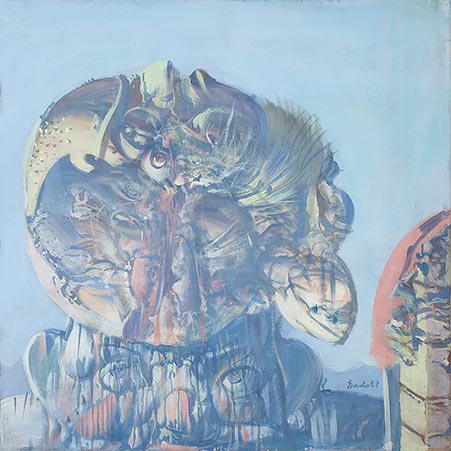 Dado: That's just chattering classes stuff. All that concerns very sensitive people, who, you understand, who telephone friends even when they are frantic, who dine out… I say to myself, my God, the other day I had dinner with my friend Erró at Billot's, precisely, and I stumbled on a friend there, who, because he had a bit to drink, told me some… [Laughter] … incredible things, whales making love, stuff like that… Then I discovered a guy at another dinner, but then I say to myself, in Yugoslavia or in Vietnam – I'm talking about Yugoslavia during the War, in 1940, 1945 – of dinner, there was no question of having a dinner, since there was no grub at all. [Laughter] So, how can one discover anybody, do you follow?
FLT: And that, you…
Dado: That's where the kind of rebellion that lurks in me and I'm constantly discovering comes from… Among wretched people, I see myself once again, it's perhaps a form of narcissism, but it serves me well, because I think of them, if you please…
JF: You read the newspaper before painting? In the morning, having your breakfast, or not?
Dado: No. No. No, no, I read the papers after lunch, I reckon, and in the evening.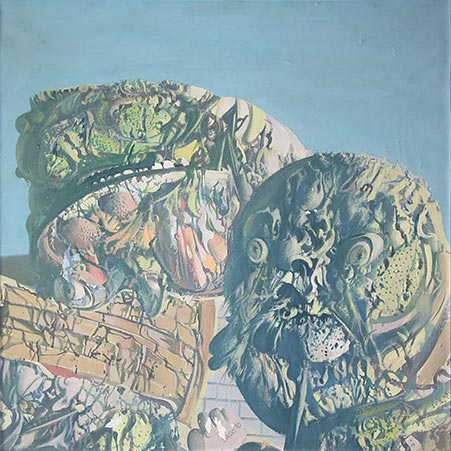 FLT: But, what with the passing of time, you are still so sensitive about that time? It scarred you to that extent, the War?
Dado: Let's just say, listen, let's just say that me, personally, I probably haven't been spoiled in life, since I lost my mother when I was eleven. And then, during the interview, for example, Billot asks me: Why isn't there any blood in your canvases?" But I said, what the…, blood, that's not possible, it's that… Blood, my mother died in childbirth, and then there was this kind of mattress steeped in blood hanging about next morning and I told Billot to get rid of it…
MB: Yes, he didn't want it left in the interview and you say it here! [Laughter]
Dado: And everyone asks: "What's with this thing about blood?" And I say, I'm all the same not going to talk about my mother who died in confinement twenty years ago now, in the end, that's nobody else's business…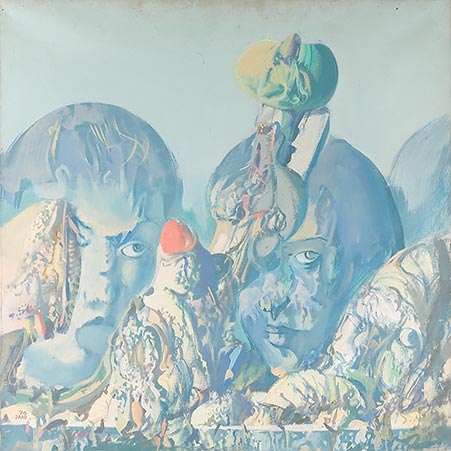 FLT: Very well, but on the pictorial level, what's actually very odd, you say: "There's no blood there," and, indeed, these monsters, this world in…
Dado: The one you're looking at is green.
FLT: … recomposition… This one's green and blue, there are some that are pink, finally often in pastel colours, there is on the contrary a kind of charm…
JF: Ah, listen now, I can see the painting you're looking at this very moment, François Le Targat, and these monsters resemble the monsters that open the show by Bread and Puppet on current affairs. On the ground, there are a certain number of monsters resembling…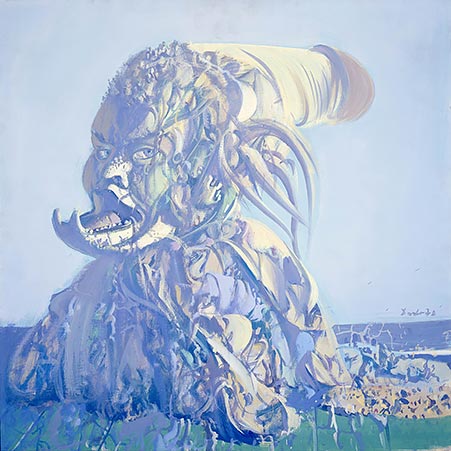 Dado: Those are real monsters, I think I build real monsters, that is to say, these monsters…
JF: … that crawl, that come up, come up, in fact monsters that come up into our own age.
Dado: And which are there, so one can see them.
JF: They're there, they are present, and menacing.
Dado: Exactly. They are not rubbish monsters with the… No, no, no.
JF: That's how I see it, myself. As for me, I see them as present.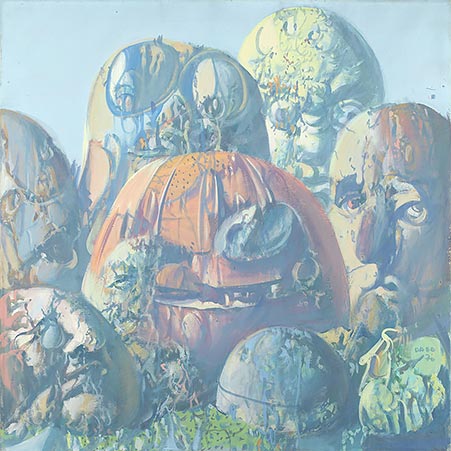 FLT: Ah, no, but I didn't, I didn't say that, I didn't say that, I see them as very present, but I mean that the colours… The colours are…
JF: For me, they're not pastels, don't you see. These colours are distressing colours. Terribly distressing, yes. It is a green, greenish world that resembles the paddy fields of Asia, you know, it is something rather… One says to oneself, my God, I'm going to live in that water there, I'll be sucked down into it, that's how I see this painting myself.
MB: But it's true that…
Dado: It's a sly-looking colour scheme. It's underhand colouring, yes, I reckon I might call it that…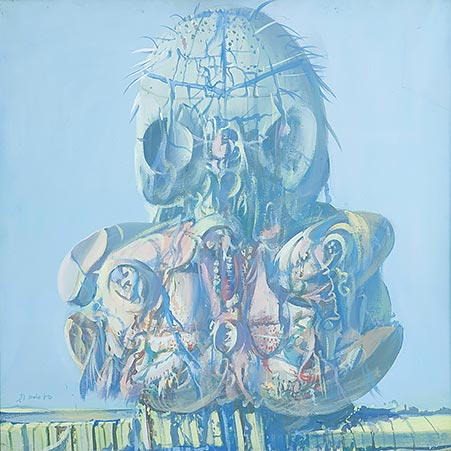 MB: And it's probably this slyness that makes people so ill at ease. Because there are, I might call them people who like Dado, anyhow who anyhow know very well who the painter is, who can hardly bear it, not only because of the monsters, but precisely because of the colour, because of these very gentle colours that literally make them feel ill at ease.
JF: There are organic colours, they are the colours of nature. It's nature that's like that…
Dado: Exactly, exactly. Nature itself, it's nature that concerns us, us.
JF: That's why it's even more disturbing. A virgin forest, that's this colour, you know, creepers tumbling down, that's this colour…
Dado: Exactly. Yes, and then… Or internal organs, that's that colour.
JF: Yes, there you are. Hold on, that one, that other painting we're looking at right now that's… Well that, that's an open belly.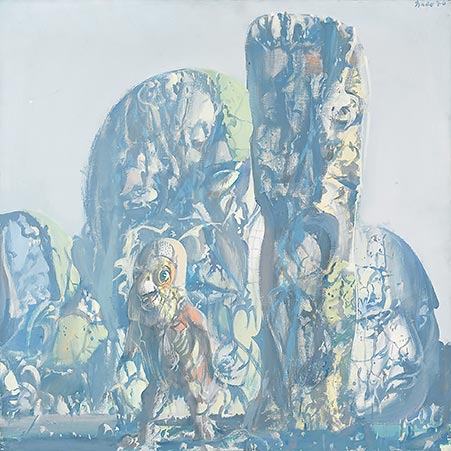 Dado: Here's a painting, for example, this painting, a Letter from Madame de Sévigné, that's what I call it, because at that time I was reading her letters and she spoke about the Bretons they were about to hang the next day and then they'd been drawn and quartered around the four gates of the city and so on? ¹. I was terrified to be reading in a book of seventeenth-century literature, in a splendid style, such horrors. She speaks about all this in such a light tone. And, the people, who saw that… This time, it's a friend who deals with children in Vietnam scorched by napalm. [Laughter] He told me, he's an American in Vietnam, and… A guy, a critic, said to him: no, that, that's a painting, how can I put it… It doesn't have anything to do with the world today. That's what they were saying the other day.
FLT: It doesn't have anything to do with the world today?
Dado: Yes, that's it, yes, it's inspired by something very old…
FLT: I get the impression that's not your opinion. And you Monsieur Billot?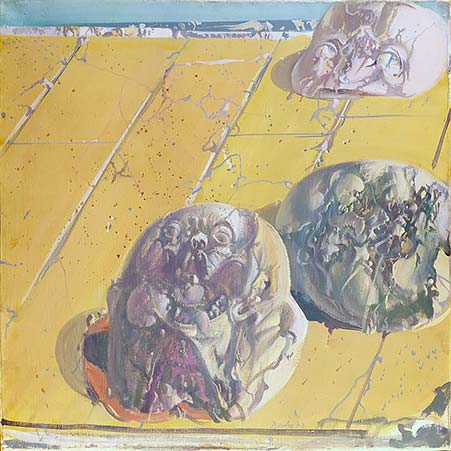 Dado: Then, I reckon it's…
MB: Right, in any case…
JF: No, no, I find it's very relevant and when you talk about…
Dado: Thanks.
JF: … lightness with Madame de Sévigné, I don't think it's really lightness, I think it's a worldly tone, it's the tone…
Dado: That's it!
JF: … of the century of the Enlightenment, which is not inevitably one of lightness, it's not lightness.
Dado: Yes but it's drawing-room stuff, it's the problem of the drawing-room that finally rots the artist, you know…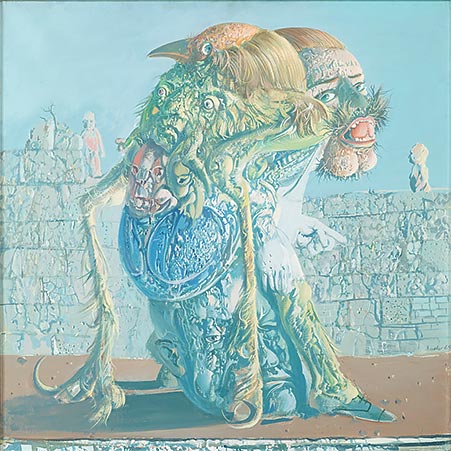 JF: Yes, but it was all the same in those drawing-rooms that the Revolution was born.
FLT: Yes, it's nonetheless there that it happened…
Dado: That's true.
JF: Never forget that.
Dado: OK, OK. It was there that it degenerated too…
FLT: Yes, of course, and so that's why…
Dado: And really quickly!
FLT: … always come back to… we always come back to the first…
Dado: It's circular, let's say. Horror is a circular form of life. Horror never ends, it comes from nowhere and ends nowhere. It's never-ending.
JF: Yes, and then, you know, I believe that man will always have toothache and that when one has a toothache, it's sometimes more awful than an unhappy love affair.
Dado: Ah, yes, certainly, certainly. That's the problem of physical and material suffering, that's true.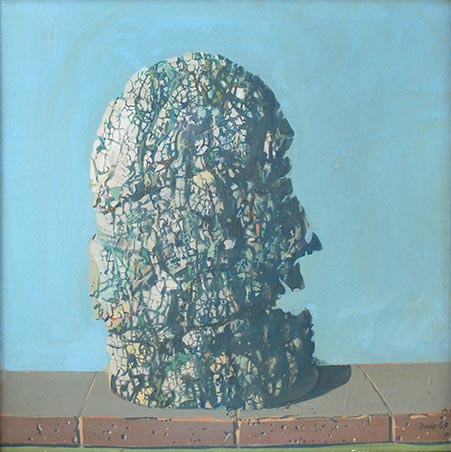 FLT: And, well, in any case, a great exhibition, and when I say great, it's because Dado has produced many pictures, it's a… There are many canvases, you…
Dado: No…
FLT: … must have had to go to a lot of trouble, Monsieur Billot, to organize this exhibition, as the canvases are very large, and so many…
Dado: They aren't as numerous as that, you know, nobody…
JF: No? One has the impression there's a whole forest…
Dado: You know, people hardly fight for my pictures, the canvases were in my studio and all that, this exhibition was easy to put on. You know, they didn't tire themselves out, no.
[Laughter]
MB: No, no, that's true enough!
Dado: There's not…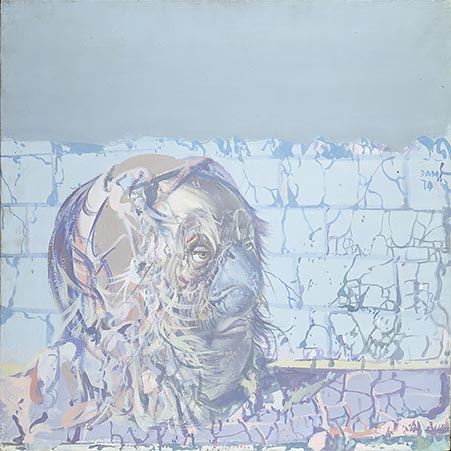 FLT: In any case, it's an exhibition not to be missed…
MB: That's absolutely right, because, on the one hand, the rooms in the Centre National d'Art Contemporain are an absolutely fantastic place for the exhibition…
Dado: And then the team is wonderful too, it should be said…
FLT: That's true too.
MB: … Large canvases can be hung there, there's enough space to step back, the lighting is appropriate, whereas… even in Dado's studio, one sees them differently.
JF: Where is it?
FLT: At the CNAC, 11 rue Berryer, at the Fondation Rothschild, until 23rd February.
JF: In Paris?
FLT: In Paris.
1. "The day before yesterday, a violinist who had started the dance and began pillaging official papers was broken on the wheel; drawn and quartered after his death, his four quarters were set up on the four corners of the city. As he died he said that it was the agents responsible for the stamped papers who had given him twenty-five écus to stir up sedition, but nothing else could be got out of him. Sixty citizens were arrested; they start the hangings tomorrow. This province will offer a fine example to the others, and especially so they respect the governors and their wives, stop insulting them, and stop throwing stones into their gardens." (Letter dated 30th October, 1675)