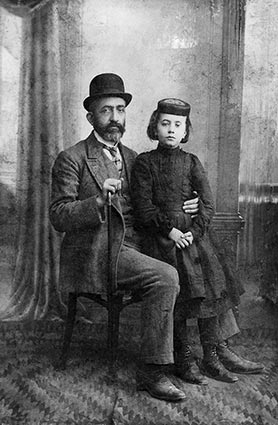 Dr Jovan Kujačić and Vjera Kujačić,
Dado's grandfather and mother.
Miodrag Djuric, known as Dado, is born on October 4, 1933 at Cetinje, Montenegro (Yugoslavia).
1944Death of his mother. Taken in by his uncle, a painter, he lives in Ljubljana, Slovenia, a baroque city once in the Old Austro-Hungarian Empire.
1952Dado studies at the School of Fine Art in Herceg Novi (Montenegro) before entering the School of Fine Art in Belgrade where he follows courses in painting by Marko Čelebonović, who encourages him in his work.
1956First exhibition at the Salon in Rijeka (Croatia) together with French artists. Marko Čelebonović helps him leave for Paris on August 15. Shortly afterwards, Dado works in Gérard Patris litho workshop where he meets Jean Dubuffet and Roberto Matta.
1958James Speyer buys a first painting from him. Kalinowski and Dubuffet arrange for him to meet Daniel Cordier who will become his dealer. First solo show at Daniel Cordier's gallery. He leaves Paris to settle in a former cinema in Courcelles-les-Gisors where devotes himself solely to painting and drawing. He meets Jacques Dauchez, Jean Dewasne, François de Liencourt and Bernard Réquichot whose close friend he becomes.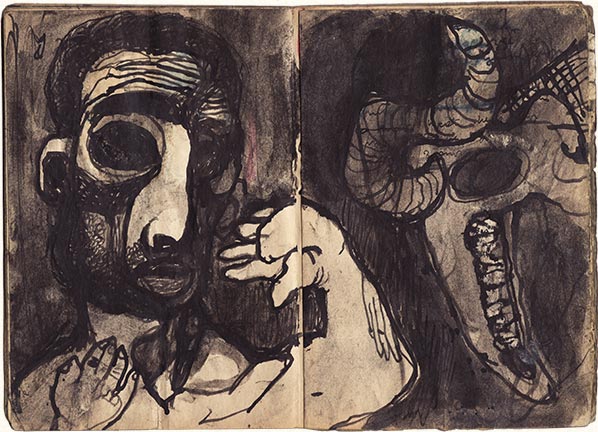 Dado's sketchpad, 1953. Each sheet: 14,5 × 20,5 cm. Formerly Jernej Vilfan collection. Photo: Pascal Szidon.